I've got a few moments while Junior is passed out in his crib. The kid is exhausted! From the sounds of it last night, I thought he was having a party in his room. Maybe he was... LOL!
I thought I should start posting pictures of my finishes from last year before 2014 rolled around ;o) I have lots to show you as it seems I was very bad at keeping up with my show & tell.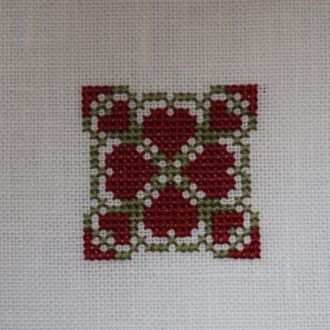 This was a freebie and I stitched it last February when I was in my Valentine's Day kick :o) Unfortunately it has not been made into a pillow as I was hoping but maybe someday soon. I changed the colors on this one but I can't remember to what. D'oh! I know I used DMC. HA!
Finish six is by The MonkeyWorks and it's called Be My Sweet Heart -
I used the colors that were called for and at first I thought they were horrible! That was until I found some fabric that was a perfect match. Again, my intentions were to sew this into a little pillow... I stitched this one on 36 count linen.
Sorry the pictures are so bad! We finally had some snow last night and it's overcast today. I hope you've enjoyed seeing some of my stitching and I promise I'll be back soon with some more :o)