Back in February, there was an online event called One World One Heart. If you're not familiar with it, the basic concept is that artisans from all over the world hold giveaways on their Blogs. This year there were 871 people participating! It's a great way to see new Blogs and meet other talented craftspeople :o)

Unfortunately the event happened during our last funeral so I wasn't able to visit all the Blogs that were listed. But somehow and for some reason I will never know, I stumbled across one that truly gave me the greatest gift...

Jobi is the owner of WaterColor Your World and she specializes in watercolor portraits of animals :o) When I looked at her Blog, I loved what I saw. People's pets just came alive. When Jobi emailed me and told me that I was the Grand Prize winner, I just couldn't believe it!

When I emailed her pictures and told her the story of Brie, Brie gained another fan :o) I sent a handful of my favourite shots but I let Jobi surprise me as to which one she would use. Yesterday I picked up my winnings at the post office and I was just blown away! Here is Brie's watercolor portrait -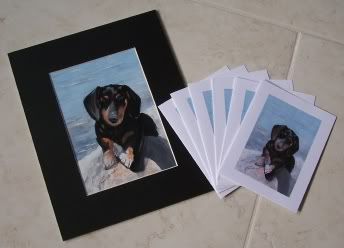 It's just outstanding and my eyes welled up with tears because I can remember that day at the ocean just like it was yesterday :o) She also made up some note cards with the same portrait and included them in my package.

I can't thank Jobi enough for what she gave me because it's more than just a picture and it's more than what I can put into words. I haven't checked with DH yet but I think we'll put our little girl in the television room with us so that we can see her every day.

If you have ever thought or would like to have a portrait done of your pet, I highly recommend Jobi. She's such a sweetie, with a heart of gold :o) Thank you again Jobi. You did a wonderful job of capturing our memory of Brie.