Sabrina is still here :o) I've been in a bit of a stitching slump lately but I have made a bit of progress on her -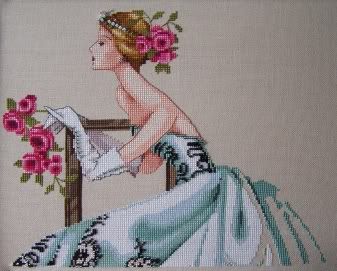 Thankfully, her dress DID cover that spot on the fabric. Whew!

I just have a small portion of her dress and the roses on her bum left to go and them I'm done side one of the pattern. I've been seriously thinking about taking a break from Sabrina for awhile and stitching something else. What? I'm not sure. I would like to get Gentleman Quaker by Jardin Prive done and then that way, I can have both framed at the same time (when I get some extra money that is).

Then there's Dog Lessons For People by Lizzie Kate. I think I have everything I need to stitch this one too. Or do I just dig out an ornament sized project just to give me a quick change of scenery? Argh! My mind just won't settle! What to do...what to do...

I want to thank everyone for their wonderful comments lately! I see that my Stalker list has increased so I want to welcome all my new readers and hope that you'll stitch around :o) I hope all the moms out there have a very Happy Mother's Day weekend.