As I stated, a bunny would be my next stitching project so here is A Bunny For Baby by JBW Designs -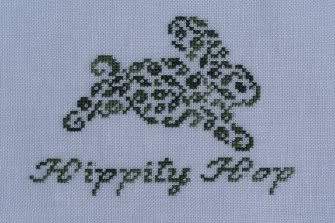 The kit came with DMC but of course I couldn't just use regular old thread with this sweet design so I sifted through my stash and came up with Collard Greens Belle Soie by Crescent Colours :o) I just LOVE this color and it makes the stitches so shiny and rich looking.

By some miracle, either that or the demon that was lurking left; my sewing machine decided to cooperate and let me do some sewing! I had never done a flange pillow before so I was a bit anxious that I would screw things up :o( I took my time though and I even used two different coloured threads! This is the result of my labour -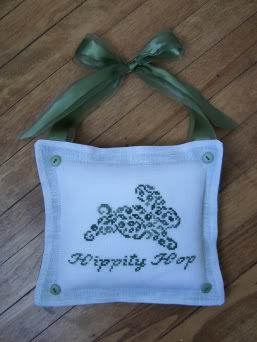 The fabric I used for the back -



I even sewed my own insert pillow too :o)

There is one mistake in the instructions so beware or else your pillow won't come out to the right size. The biggest problem I had was the feckin bow! Argh! I tied and I tied and I tied until I couldn't tie anymore. Finally I went online and got a video tutorial. Who would have thought that a simple bow could cause so much mental anguish? ;o)

Surprisingly I do intend to stitch this pattern again but in pink! I've got the thread, backing material, buttons and ribbon. When that will happen, I don't know. I guess we'll see just how long my sewing machine stays demon free...