I guess you could say that I'm doing a HHD!!!! That's a half happy dance for those that didn't get it ;o) LOL! Last night I put on the last of the beads to side one of Sabrina. What a great feeling!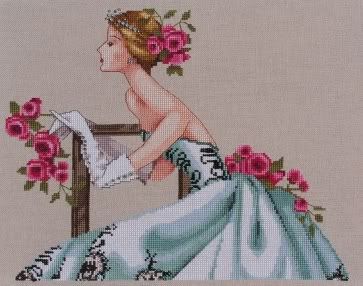 Technically, based on the center of the pattern, I'm half done :o) I imagine it will get a little tough once I dive back into her because it's basically all the same colors and A LOT of beading. Oye! There are a lot of white blocks and teeny tiny black beads. It might send me over the edge... Okay, I might go over the edge 'a little further'!

I've decided to take a short break from Sabrina and stitch up A Bunny For Baby. That definitely won't take long so I might slip another project in there as well. We'll see what happens ;o)

I've got the sewing bug again but I just haven't had the heart to tackle that stupid sewing machine :o( With the warmer weather coming on, the basement isn't as cold so I just need to pump myself up, dive in and just go for it. The worst that could happen is that the sewing machine would be pitched out the tiny basement window...