Of Doxie love that is! Yes, I did say Doxies :o)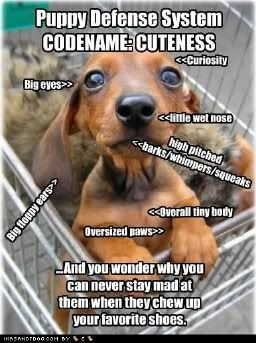 If you read my previous post, you'll remember me saying how fate seemed to be playing a part in my life. Well, after today, I know it really is. Let me explain...

Last weekend I was on the internet and I decided I would just do a search and see if there were any Doxie breeders close by. I didn't have my hopes up because when we adopted Brie, there were very few in The Maritimes. To my surprise, there were at least three in NS that were breeding smooth haired minis.

I went to the first website and found out that they were about 2.5 hours away. Her dogs were beautiful and so I emailed her. The second website led me to a lady that was living only ten minutes away from me! I emailed her as well and anxiously waited for replies.

Both women answered me and were very understanding of my loss. It was nice to talk dogs with both of them. During our emails, I came to find out that they both knew the breeder that DH and I adopted Brie from. The lady close to me even stated that she had one of her dogs. She gave me her phone number and invited me over to meet the dogs.

So that's what I did today :o) When I walked in the door, I was surrounded by minis of all colors. There were reds, piebalds, a black and tan and even a chocolate. It was little B that caught my eye. The breeder had just bought her from a breeder in BC. She was just a pup but full of that Doxie badness that I love so much. A lot of what she did reminded me of Brie. What I didn't know was how close to Brie I really was...

I knew ahead of time that her black and tan came from the same breeder that Brie came from due to her registered name. When I inquired about how old she was, the breeder looked it up and told me she was born on April 11, 2004. I lost my breath. Right before me was Brie's full sister. The same sibling that I saw when we picked up Brie and actually, the one I originally picked out before Brie decided to pick me.

Is this fate? Something lead me to this woman and her dogs. There's a litter due on September 23 (our wedding anniversary) and I can't wait to see the puppies :o) I'll just leave it at that and take it one day at a time like I was asked to do...