For three days, she lay untouched so it was a joy to pick up Stargazer again :o) This is my progress to date -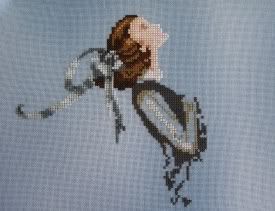 I wish I was further along but I'm glad I didn't touch her when I wasn't in the mood to. That's when I find that I'm apt to make mistakes and the love affair quickly ends. To answer Faith Ann's question about the fabric, there are 'very' slight differences in shade. If you know what Bluebell looks like, I consider that a harsh variation but with Blue Clouds, it's very soft and delicate. That's the look I wanted for her though because she looks so serene and at peace.

Unfortunately I cannot say the same for myself :o( Last week was not a good one and I really appreciate all the suggestions that you gave me for keeping myself busy when DH is not around :o) Usually, I don't have a problem. I've been by myself many times before and I tend to get more things done when DH is gone. LOL! I still don't feel 100% myself but its coming. I think it may be time for some laughter therapy ;o)

I am proud to say that my weight loss has brought me down even further. I went out with my parents on Thursday to exchange the pair of pants they got me for Christmas and I wound up with a size 8 :o) WOOHOO! Please don't take this the wrong way. I don't mean to brag but after ten years of looking in a mirror at someone that 'looks' like me, it feels so great to see my original self again! I'm happy with this size but it seems that the weight is still coming off. My doctor has been keeping track so we'll see what he says in another week and a half. All I can say is, this better be the end of it because I can't afford to buy another size of clothing! LOL!