After such a rotten night and morning, I was SO thankful that the rest of today turned out to be awesome :o) Not only did my JCS Ornament Issue arrive BUT I also got the latest issue of Beyond magazine and my name is in there!!!! Eeeeeeeeeeeeee!

From talking with other stitchers here in town and some across Canada, it looks like the ornament issue has not reached our stores yet :o( That's unbelievable since it's been out in the US for at least a week now. Katie, Shannon and Faith Ann take note...here is the proof that I have it in my hot little hands -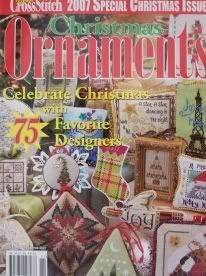 There are a good number of ornaments that I want to stitch this year so I guess Christmas stitching will officially begin here ;o)

The third issue of Beyond just hit the stands and luckily I spotted it when I went to pick up my prescription today -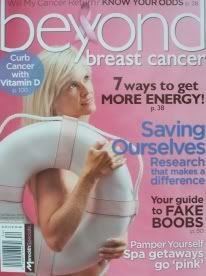 In case you haven't read my whole Blog, Beyond is a fairly new magazine that is solely dedicated to breast cancer. It's only published twice a year. I can't say enough about this wonderful new source of information all in one. It's just full of useful and informative articles and you'll want to read it from front to back. The proof? My mother, MIL and DH have all read them so far :o)

This issue is special though because one of the writers, Michele Meyer, interviewed me over the phone for her piece on Dancing With The Fear. The article looks at the fear of recurrence and states "Don't let the fear of recurrence steal you away from life. Be inspired by how other women have learned to say no to this persistent suitor." I can't post the whole article but this exert is mine :o) "Needlework takes Cathey's mind off of her cancer - especially when she's in a rocking chair at her in-laws' home on the ocean. The Canadian from New Brunswick learned she had stage-II milk-duct cancer in 2000, at age 28, when she went for breast-reduction surgery. A radical mastectomy and five years of the anticancer drug Tamoxifen followed. "Seeing and hearing the waves is like meditation for me," she says."

Not bad for my debut! Now don't go bombarding me with requests for an autograph ;o) LOL!

I want to thank everyone who left such wonderful comments on my Blog :o) You guys are the best! I have some good news for you. My mammogram came back fine! Yay! The girls are back to feeling free. Now if I could just finish up with this awful diet...

Do you want to see what 332 skeins of DMC look like?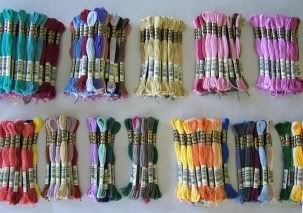 A wonderful relative of mine from the States was able to pick me up a load during the ten cent clear out sale at Wal-Mart. Luckily there was still a good range of colors so my back up supply will be good for a while. At least I think so ;o)