Do you like my play on words? LOL! Yesterday DH and I went to the FREX to pick up my items and although I am happy with how I did, it was kind of sad giving up my Grand Champion title ;o) Here were my results though -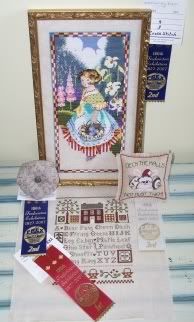 Quilt Time Sampler ~ First Place
Gathering Eggs ~ Second Place
Biscornu ~ Second Place
Deck The Halls ~ Third Place
And...I brought home a total of $16! Well not really because DH and I went out for a treat afterwards :o) All I can say is, LOOK OUT next year because Cathey (and
Katie
!) are coming back with a vengeance!
While we were downtown, DH and I decided to take a stroll along the walking path and I got a chance to get some more pictures. This first one is of The Christ Church Cathedral -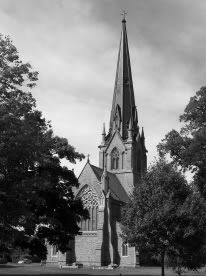 That's where DH and I got married :o) Beautiful isn't it?
The other picture that I'm pretty proud of is one of "The Leopard" -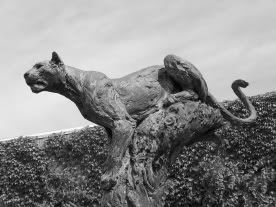 This guy is right outside
The Beaverbrook Art Gallery
. DH and I keep meaning to go there. We've both been there when we were younger but I doubt we really appreciated it. Not to the extent that we would today.
There are many places around the city that I have never been but keep meaning to go. It's a shame really because this city has a lot of history. I really should make it a point to visit some of those places next summer. Have you ever tried being a tourist in your own town before? Maybe you should try it too. You might learn a thing or two :o)