My boy hit the two digit mark on Sunday when he turned 10 months old! I can't believe how fast he's growing.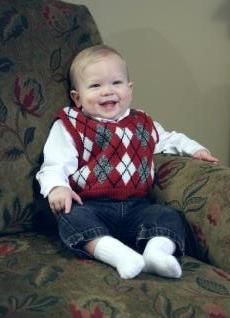 Couldn't you just kiss those cheeks? Not the greatest picture because it's been cloudy here lately and the light hasn't been very good. I had to tweak the picture a bit. Little man was good though and cooperated for Mommy :o)
This morning, Junior had another tooth pop out so we're at number seven. Eight shouldn't be too far behind. At least I hope not because he's been extra crabby lately but who can blame him. It's like we're living with a rodent though. He chews everything he can get his teeth on! The side of his crib looks like a beaver took to it >:o(
I suspect we'll have a walker on our hands pretty soon. Junior LOVES to be on his feet! At every opportunity, he'll grab hold of your fingers and walk around the house. That little behind of his is so cute. LOL!
Would you believe that he received his first Valentine's Day card???? From a 4-year-old no less! I'm going to be swinging the broom in order to get all the girls off my doorstep. Who could resist that handsome devil though? ;o)