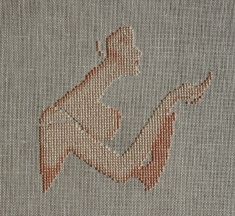 This is my start to Roses Of Provence by Mirabilia :o) Not a lot done yet but more than I expected! I think it's been about a month now since I started her. I'm averaging about an hour a night with her so the going is slow but I'm REALLY enjoying her. I love watching her take shape right before my eyes. Once her skin is complete, I'll move on to her hair. I can't wait to start on her dress!
Again, I have three amazing ladies to thank. If it weren't for them, I probably wouldn't be stitching ROP at the moment. It all started with Carolyn who sent me the pattern and bead package :o) My eyes popped when I saw all those beautiful beads! I wonder how all that beading is going to get done with a toddler in the house. LOL!
Next it was Gabi who bought me the fabric :o) I stayed with the recommended fabric and I'm happy I did. It does remind me of white chocolate but it won't take away from ROP's beauty in the end.
Last, but certainly not least, was Melanie who sent me ALL the DMC required along with the spool of Kreinik :o) There is just something about seeing all those skeins of floss together that gets my heart racing and my mouth drooling! LOL!
Thank you ladies! Your generosity has touched my heart and I hope you'll enjoy watching ROP come to life as much as I will. Please know that I will always remember your gifts and it will be a fun story to tell people when they see her hanging up on my wall :o)
There is one more person I would like to thank as well; although I don't know who I'm thanking. I had a certain Secret Santa send me a $20 gift certificate to Down Sunshine Lane around the same time. I just got around to making a purchase and I'm looking forward to getting my order. I wish I knew who you were so I could thank you in writing but I hope this will do...thank you :o)