It still amazes me after all these years of Blogging and being on the computer the kinds of relationships you can develop. Here you are connecting with someone you have never met face to face or even talked to on the phone and an instant friendship blossoms :o) I've met a lot of wonderful people over these years and in this post, I want to thank two very special ones.

Carol and I have been reading each other's Blogs for a few years now and I've always admired her work and talent :o) Imagine my surprise when I went to the mailbox one day and discovered this waiting for me -



Yes, that lovely little bunny made its way to my house! I am SO honored to have a piece of Carol's stitching and her over one work is phenomenal! I had asked her about borrowing The Prairie Schooler chart she had but she went well beyond her friendship duty and bought me my own copy :o) Thank you so much Carol!

The second person made an appearance on my Blog awhile back. Somehow I think it was fate that brought us together :o) When we put Duncan to sleep, I immediately knew what I wanted to get DH for his birthday; a watercolor portrait to go on the wall with the one she did of Brie. Jobi did not disappoint and went above and beyond my expectations -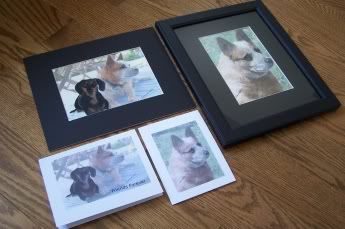 Not only was there the portrait of Duncan but one of Brie and Duncan together :o) DH and I were SO touched! Unfortunately I'm one frame short but expect to fix that next week when we go back to the Big City. We plan on putting them up behind the couch and that way we can all watch television together.

I highly recommend Jobi's work! She is a very talented artist and has done a fantastic job of bringing our critter kids back to life. Thank you again Jobi :o)



IMPORTANT NOTE:

For those of you who follow my Blog, you'll know that my Blogaversary is coming up towards the end of the month :o) Five years! Wow! And as you know, I always give away a nice GC from an ONS... Unfortunately I was a bit disappointed with the turnout from my last giveaway. It seems that some people just come out of the shadows for the gifts and then retreat again :o(

Now don't get me wrong! I know that life is hectic and there is not always time to read everyone's Blogs. I'm guilty of that and as we speak, I'm behind myself. BUT...I do eventually read those Blogs and I do leave comments.

So...I've come up with a new rule. In order to be included in this year's giveaway, you must have commented on every post from now until I upload the post for my Blogaversary. Honestly, not that hard ;o) I hope you will understand and continue to enjoy the craziness that is The Pumpkin Patch.