Oh yeah baby! Surprise, surprise! Pumpkin's finally got a finish to show :o)

With fall just around the corner and having the JCS Halloween ornament magazine and book arrive on my doorstep, it was inevitable that I was going to jump on the bandwagon. LOL! When I saw this little cutie, I just couldn't resist -



This is Fall Owl by Casey Buonaugurio. I used the recommended floss and fabric. I had to add the full stitch of 712 for the corner of his eye though because there was an error on the chart. He was so much fun to stitch and quick too :o) I imagine I'll finish him into a pinkeep when the time comes.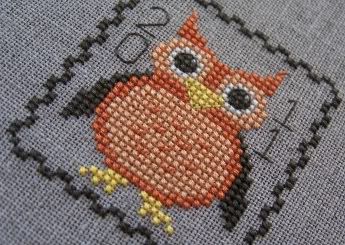 I have my ninth block finished on Christmas Rules so stay tuned for pictures of that :o)

Remember to read the important note on my previous post! And I want to thank everyone for their wonderful comments that were left. I've truly enjoyed reading each one :o)