I seem to be MIA lately and I apologize. Things have been busy around the Pumpkin Patch! DH and I are trying to take advantage of ANY moment where it's not down pouring with rain. Sigh! Rain, rain, go away!!!! LOL!

I'm going to be away even longer because I'm expecting some visitors at any moment :o) Mom and Dad are coming today and will be here until Thursday. It looks like the weather is not going to cooperate so hopefully we can find some things to do.

That means that during this time I'll be away from the computer and therefore not answering many emails or reading Blogs. I'll have to catch up after they're gone. But never fear, I will be back to reading! I hate missing any of the action ;o) LOL!

For those of you wondering, Colleen (no Blog) was the recipient of my Springtime pillow that I did :o) I wanted to thank her for all the charts and floss that she sent me and it turned out that was the perfect gift. I'm still waiting for bunny to arrive at his/her destination. I sure he/she didn't get lost :o(

Since it's so blah out, I feel like doing a small giveaway! I have an extra copy of the January/February 2011 issue of Just Cross Stitch -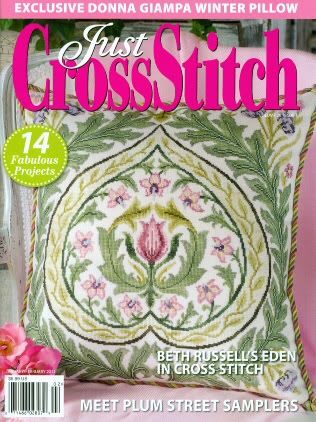 I didn't want to send this out to anyone just in case they already had a copy of it. So...if you would like the chance to win this, all you have to do is be a Pumpkin Stalker AND leave a message on this post only, along with a way for me to reach you if you are the winner :o) It's that simple! When Mom and Dad are gone on Thursday, I'll pick a name and announce the winner. Good luck everyone and have a great week!