Working hard paid off because I met my goal; the mid section of Sabrina's dress got beaded before the end of the month :o) Talk about a Happy Dance! And let me tell you, there were a lot of beads! A LOT!

Did you want to see a progress picture? No? LOL! Just kidding ;o) Here she is -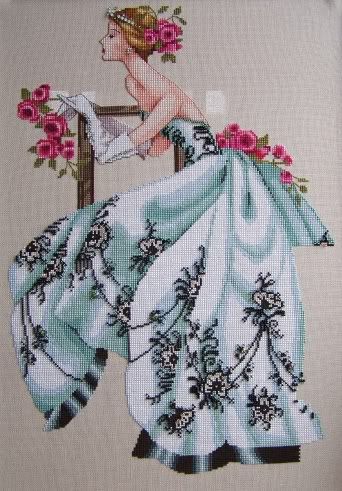 I'm still SO in love with her. I know there have been comments about her quirky shoulder but she really is stunning in person. I was looking at frames the other day and found two that would be perfect for her. They are both ornate and have a black hue. One is quite wide though so cost may be a factor. But both have this tiny beaded detail around the inside of the frame and went so well with the tiny black beads in her dress :o)

Speaking of beads...it looks like I'm not going to have enough Petite black beads to finish the last section >:o(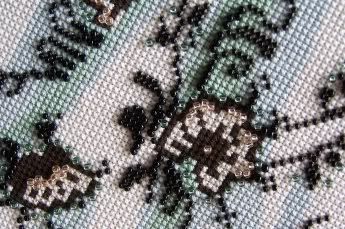 I even bought the said amount of packages. Grrrrr! It's even questionable with the larger black beads. Sigh! So guess what that means...I'll have to make an order ;o)

So now my goal is to have Sabrina completely finished by the end of June. How doable is this? I only have two small folds left so I'd say it looks pretty promising :o) If she does get finished, there will be one heck of a Happy Dance!!!! LOL!

Btw, I'll announce the winner of the giveaway on Monday, May 30, so there is still time to enter. Just remember to leave a comment on THIS post only. Good luck!