Every year during this time, something magical happens! It hides in the forests throughout the winter, silently waiting. Finally, it's persuaded out with the cool nights and warmer days of the coming spring. This treasure has been around for centuries and once you've been taken over by its sweet, sweet powers, you never go back.

What's this powerful force you ask? Nope, it's not honey. This is liquid gold, better known as maple syrup :o)



There's a legend that is told by the Native Americans about how maple syrup came to be. Late one winter day, Chief Woksis threw his tomahawk into a maple tree. The next day, a liquid (sap) was discovered dripping from the wound made by the tomahawk. The chief's wife used the sap liquid to cook their meat and that's when they discovered its sweet, delicious taste. From then on, the sap was used for various things and eventually it was discovered that if boiled down, it became syrup.

If you live anywhere near maple trees, then you can collect the sap :o) Gathering the sap begins the same way it always has. A 'v' shaped nozzle is hammered into the trunk of the maple tree, creating a tap. When the sap runs, it slowly pours out and drops into a bucket attached just below, to be collected later on. I have to warn you though; it takes A LOT of sap to end up with one bottle of syrup!

Now the method of gathering that sap 'has' changed over the years. People used to have to snowshoe from tree to tree. Their precious cargo was then dumped into a bucket, attached to a sled, and then taken back to the 'sugar shack' :o) This may have been done quite a few times in one day and was quite labour intensive. As the years went by, new methods came about and now some operations have a tubing system, allowing the sap to come to the shack by itself.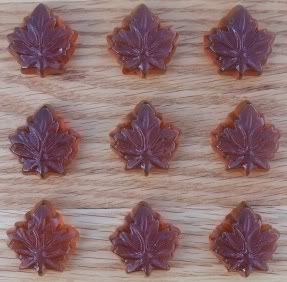 Once the sap is collected, it is boiled to evaporate the water and in the end, turned into that sweet liquid gold :o) There are various maple syrup products as well. My grandfather used to buy a block of maple cream on a regular basis when it was in season. Its consistency is like that of fudge and it just melts in your mouth. They also make candies, as shown above. Check out the website for Acadian Maple Products to see what I'm talking about :o)

What can you put maple syrup on? Well...just about anything ;o) Traditionally it's used with pancakes or waffles but it's been known to find its way onto ice cream or into a batch of baked beans. There's a maple butter that can be spread on toast as well...

So the next time you fry up a batch of pancakes, grab a bottle of maple syrup to pour on top and see why it's considered liquid gold :o) Oh, and by the way, Aunt Jemima is NOT maple syrup!!!! LOL!