...you're in the shower? Odd question, I know, but I got your attention didn't I ;o)

Lately, thanks to Faith Ann, I've been thinking about pumpkin pie. LOL! Why, you may ask? Well, on Friday night she gave me some Pumpkin Pie Paradise Three In One body soap from Bath & Body Works -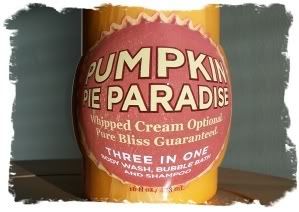 Absolutely heavenly! It smells SO delicious! Anyway, I was having my shower last night and I'm using my new soap when I yell out this thought that just occurred to me "I smell like a pumpkin pie!" The reply from DH, "I know, I can smell you all the way out here!" I guess he should be thankful that it was a good smell then ;o)

But seriously, do you think in the shower or is it just a routine for you? Some of my best ideas have come while I take my shower. It's my time alone, with no distractions, and I'm in no rush to be anywhere. I can let my mind go crazy! Sometimes it's a photograph I want to take, or a story that I want to write. Other times, I find myself remembering something that I had been trying to come up with just days before :oP

For someone who hates water, I do enjoy my showers :o) Someday I would LOVE to have a walk-in shower all made of stone tiles. Sigh! I drool over custom bathrooms in magazines. If it's large enough to stretch out in, then it's a shower! Radiant heat in the bathroom floor is a must as well as double sinks ;o)

There is nothing worse than a shower that is TOO small. When we go to retreat, I dread the tiny showers. You end up plastered on the opposite wall from the shower head, trying to wash your hair and God help you if you drop your shampoo! ;o) LOL!