This should have been up last week but I only finished it last night. I lost a few days of stitching and that's usually a pretty rare thing. Of course it didn't help that I slept from 2 pm on Friday to 8:30 am on Saturday! Yes, I was tired ;o) Anyway, here is Christmas Motif Sampler II by JBW Designs -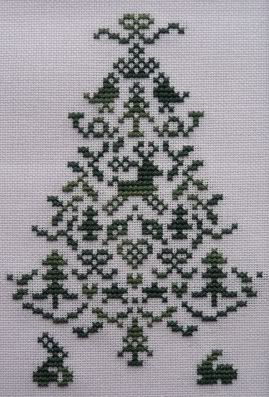 I stitched it on 32 count antique white Lugana with CC - Spinach. You might notice a slight difference at the bottom of the tree :o) I took out the reindeer on the right hand side and replaced it with a mirror image of the bunny from the far left side. The reason I did this was because I already had a gorgeous green suede mat that I had picked up at Michael's last year and it was a wee bit too narrow for the width of this design. No problem because a few tweaks took care of that -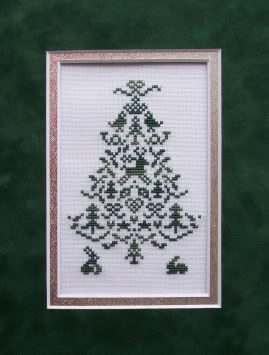 All I need to do now if find a standard 8 x 10 frame! That makes finishing easy. Yay!

So...I am down to the final piece and I have a few to choose from but I'm not sure which it's going to be. I guess you'll just have to wait and see ;o)

I'm sorry for the quality of the photos lately but the light inside/outside has not been very good. We are all waiting for a huge storm to hit us this afternoon. They say our area is supposed to get 15-25 cm of snow :oS A white Christmas it will be!

Last night DH and I went to a birthday/early Christmas party. My in-laws, SIL/BIL/nephew and another sister with her fiance were there. My BIL had bought a Wii this past summer so we had a roaring good time trying our hands at bowling. I think by the end I was starting to get the hang of it. What a workout though! Now DH is determined to get one at some point ;o)

We had KFC for supper and since it was my MIL's birthday, it was her choice :o) The girls made a delicious birthday cake and it was topped off with candy cane ice cream. Yum!

Our entertainment for the evening, besides the Wii, was my little nephew :o) I just can't get over this child. He's very smart and what a little cutie too. I wish I had taken my camera. He was walking around in his jeans and white t-shirt, hiking up his pants and just being one of "the boys". I think he's one of the rare children that don't scare me because I find myself quite comfortable with him. Don't ask me to change a diaper though ;o) LOL!