Our little friend is still around but today he thought it would be fun to play chicken with oncoming traffic and that included our car! How he managed to save his butt, we'll never know. When we pulled into the yard, I asked DH to look in the wheel wells to make sure he wasn't plastered in one :oP Silly thing!

Believe it or not, he is STILL packing the pine cones into the birdhouse. I have no idea how he's doing it because it was pretty full when I took this picture. DH says that he must be living in behind the barn. That's good because after he's done all his shopping, I don't think any living space will be available :o)

I was reading some Blogs last night and Ranae gave me an excellent idea. She had posted on what to do about a project she had started but never finished because she didn't like it. So, I went in search of my notorious disliked UFO. I know you're going to groan when you see this ;o) This was my 'first' attempt at In The Arms Of An Angel by L&L -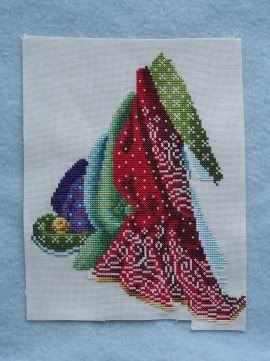 Do you think I miscalculated the fabric?

GOTCHA! LOL! I'll explain that in a minute ;o) I don't think it was so much the stitching on it but it was the color of the fabric that turned me off. That was in the day when I had never laid eyes on hand dyed fabric!

My 'second' attempt was worse though. I stared on a piece of Waterlily Jobelan but was quickly frustrated so out came the stitches so I have nothing to show for that one. Is there a third attempt? Not yet but I do have a gorgeous piece of hand dyed fabric just waiting ;o)

So, I guess my question is...what do you do with a project you have started but don't like anymore? In my case, I just cut around the stitching and salvaged the material. There were just too many stitches to take out, plus the red would probably leave a mark on the fabric. Have any of you done this?

Would you throw the whole thing in the garbage? If there was no excess fabric that is ;o)

What about giving the UFO to someone else to complete? For some reason, I just can't will myself to do this. Each project is my baby, from beginning to end. If it doesn't get completed, I still know it's there and that I can always try it again. Hey, greater miracles have happened! LOL!