UPDATE...

OH-MY-GOSH!!!! She's mine! She's mine! All mine :o) I just got an email from a fellow Blogger, Carolyn, and she has more than kindly granted my wish of the pattern AND the beads!!!! I have the biggest grin on my face :oD Thank you SO much Carolyn! My heart has been warmed by your kindness and one day I will do a RAK in your name. On with my original post while I do a Happy Dance...
UPDATE 2...Okay, this is getting crazy! Now I have the fabric thanks to the generosity of Gabi :o) I'm totally blown away. Really. And then, a GC from a Secret Santa? Gee, I must have been a good girl this year. LOL! Let me tell you, this sure lifted my mood after being sick for the past 36 hours :o( I can't thank you enough Gabi and Secret Santa but maybe on Friday I will come close to it...
Okay, last night I was innocently browsing through the ONS when I came upon Mirabilia's new release. Have you seen her yet? I am SMITTEN!!!! Take a look at her -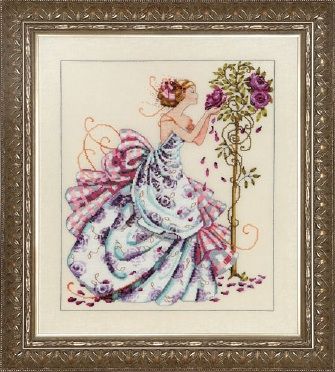 Isn't she GORGEOUS???? I just HAVE to have her! I do :o) I can SO see myself stitching her and adding her to my collection of beautiful ladies. Actually, I think she would make a perfect match for Sabrina.
Sigh! I miss stitching a BAP :o( There is something about them that is so satisfying and calming and for some reason; I always hate it when they come to an end.
I really hope that Santa leaves me some money ;o) LOL! I would love to have her to start the New Year with. Oh how I wish there was an instant porthole that you could order what you want and just reach in and get it! Wouldn't that just be the best? Come on, someone out there should be able to invent this!