Hmmmm...I see someone has hacked into my Blogger account ;o) LOL! I've always said that Junior is a smart little boy but I never expected this!
DH and I finally got things straightened around so we could get Junior's monthly photo. He was fantastic this time! I took less than two dozen pictures and voila -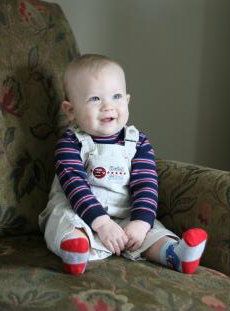 Our boy is now 20 pounds and 27 inches long. He's now wearing clothes that are 12 months :o)
You're probably wondering what Junior's been up to lately. Well, let me tell you...he's crawling. And crawling. And crawling. Plus he's also halfway to walking! I have no idea where he gets his determination from ;o) He's so feisty and once he gets something in his head that he wants to do, look out because he won't stop until he's done it.
Junior has six teeth in :o) Those pearly whites are so cute! He's into eating meat now but we're a little worried that we're behind. We're trying the food for 8 month olds but Junior isn't crazy about them. We were quite surprised that they're so spicy so I'm not sure if that's what is turning him off.
I picked up Junior from the babysitter the other day and found out that him and R had their first fight. LOL! R's mother was telling me there was hair pulling and clawing! I just hope my boy learns to be nice to the ladies and realizes that a lady is always right ;o)
Thanks again for all your wonderful comments :o) Stay tuned for something VERY special later this coming week. Trust me; you aren't going to want to miss it!!!!