Being away from stitching for awhile has kind of put me in the dark. I miss my routine of surfing the web. Lately I've been checking out my favourite haunts to see the latest designs and besides the special JCS magazine issues, nothing has really taken my fancy. That was until the other day...
Can you say O-M-G???? Those are the exact words that came out of my mouth when I spotted this new release -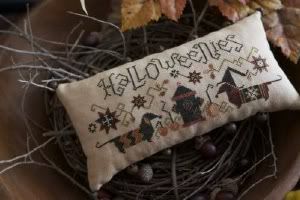 Halloweenies by Plum Street Samplers. A wonderful combination of Halloween and Doxies :o) What could be better? Well, maybe chocolate and peanut butter but we're not talking food here. LOL!