Yup, I know, I've been neglecting my Blog as of late :o( To be honest, I've been trying to catch up on my Blog reading (almost done) and my emails (getting somewhere). When you combine the tiredness from the pregnancy with my Chronic Fatigue Syndrome, it really wipes me out sometimes and I just don't feel like doing anything. But...I do have a backlog of stitching to share with you! LOL!

I despised this pattern but wanted to finish it since it had already been started last year. This is Halloween Coins by Bent Creek -



Why did I not like this pattern? I have no idea. There was just 'something' about it. I was SO relieved when I put those last stitches in. Since it was a kit, I used the recommended fabric and floss.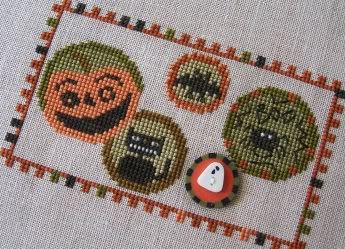 I apologize for the pictures. It's been so hard to get great pictures lately. The second picture probably best represents the true colors of this piece.

I'm still chugging along and yes, I'm starting to show now, although it's not a very 'attractive' tummy. I showed DH last night and he laughed. Before the pregnancy I was almost at my ideal weight but still had some rolls ;o) Well now I have one big roll at the bottom, a crater where by bellybutton is and then another small roll on top. ROFL! One of my friends asked when I was going to take a picture and I told her there was no way in Hell that was going to happen anytime soon. Hopefully that bellybutton pops soon ;o)

I've also had to dig out Boobarella (my silicone insert). After I had my breast cancer surgery, I gained a lot of weight and opted to go with one of these to go 'on top' of my reconstructed boob. Well the girls definitely DON'T match anymore! Anyone see the movie Just Go For It when the woman comes in Adams Sandler's office with the bra she handmade from two different cup sizes? If Boobarella wasn't around, that's what I would be faced with ;o) ROFLMBO!!!!

All is well though and we're anxiously waiting for the next ultrasound on November 24! Boy or girl? What do you think?