I know that some of you were wondering what was happening at The Pumpkin Patch a few months ago when I seemed to have dropped off the face of the earth. Well, I'm ready to spill the beans and share a secret that I've been keeping since August 17 ;o)

DH and I have never lived our life in a 'normal' way. For some reason we tend to always do things differently and perhaps even backwards. Our philosophy is you might as well keep life exciting because you only live it once! I can't say that we always 'make' our life interesting, most of the time it just happens and we're just passengers on that rollercoaster. LOL!

This situation proved to be one of those 'times' ;o) Before I go any further, I think I had better warn you now that you should be sitting down and also remove any food or liquids from within reach because this is going to be a shocker...

In five months' time, DH and I are adding another member to our family :o) When I say member, I'm not talking about the critter kind. That's right...I'm pregnant! SURPRISE! How's that for shock value? LOL! I know it definitely shocked us! Not because we weren't trying but because didn't think we 'could' have children! After six years of being liberal, who would have thunk????

I blame DH because ever since the first of this year he's harped about doing something big for our 40th year. Well he got something big alright! LOL! We are very pleased though and are looking forward to our little Peanut :o) I just had my second ultrasound last Thursday and found out that I was farther ahead than they thought. So here is little Peanut at 13 weeks and 1 day -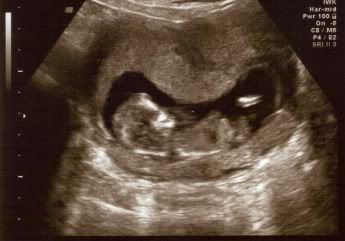 The reason we've kept this secret for so long is because of my health. Because I'm 40 now, I'm considered high risk and they have me going to the IWK in Halifax about every second week. At first we were worried that I would miscarry but I'm almost done my First Trimester and things are great. I was seen by a Cardiologist at the QEII in Halifax and even with my heart condition, I was given the green light that I could carry the baby. And then finally, we wanted to wait for the results of the Down's Syndrome test and that just came back in favour :o)

It feels SO good to finally let this out because DH and I have known for so long. Both sets of parents and my Gram now know and are over the moon. We are still being cautious and will probably feel much better come December, knowing that we have more time behind us. I can't wait to find out the sex of the baby but ever since I found out that I was pregnant, I've thought it was a girl. I'm anxious to see if I'm right ;o)

So as you can see, this has kept me very busy and away from my stitching. I'm not physically sick but get nauseous after lunch. Thank goodness for Diclectin! One thing I am though is VERY tired. I can't seem to stay up past 9pm and find myself resting throughout the day. They say it's supposed to get better in the Second Trimester so we'll see. LOL!