As promised, I have some stitching to show you :o) The pattern had been in my stash for years (YEARS!) and I have no idea why I didn't complete it until now. This is called Autumn by San Man Originals -



And the best part? It's even finished finished!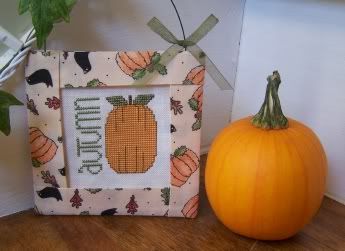 It came with this adorable pillow tuck hanger and I love it :o) I stitched it on 32 count Antique White linen and changed all the DMC colors to better match up with the colors in the tuck fabric. I'm very happy with the results.

I'm in the fall stitchy mood :o) More to come...