Today is the big day! Yes, I'm officially 40 and DH is married to an older woman ;o) LOL!

I've had a wonderful weekend so far. This morning I woke up to homemade stuffed French toast by DH and this gorgeous charm bracelet by Amos Pewter -



DH added the hummingbird to represent the new flower bed that we put in. The ocean theme is self explanatory ;o) I just LOVE it and can't wait to add more charms in the future.

Yesterday we spent the day with our good friends T & K. We went to see The Hangover II and I have to say...I haven't laughed SO much and SO hard in quite a long time :oD I also have to say that the second was MUCH better than the first! LOL! Afterwards we went out for Chinese food and then back to our place for cake. Lookie what DH did -



He got me a PUMPKIN CAKE!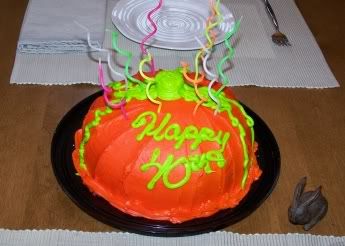 How awesome is that?

There's been a lot of pondering going on lately and after seeing The Hangover II, I just knew I had to share with you my 40-4-40 list :o) Within the next year, I'd like to accomplish the following forty things -

1. Travel to Sable Island.
2. Start exercising again.
3. Travel someplace new.
4. Lose five pounds.
5. Learn a new talent/craft.
6. Meet a fellow Blogger face to face.
7. Sell forty pictures through my Etsy store.
8. Go go-karting.
9. Help someone less fortunate.
10. Eat something new.
11. Have an article or story published.
12. Sent out four RAKs.
13. Frame four cross stitch pieces myself.
14. Start meditation classes again.
15. See a play or concert.
16. Finish painting 'the fence'.
17. Go horseback riding.
18. Go to a drive-in movie.
19. Learn to fire a handgun.
20. Go to the premiere of Breaking Dawn.
21. Finish Sabrina.
22. Learn more about the history of Nova Scotia.
23. Read forty new books.
24. Get Sabrina framed.
25. Buy Christmas gifts from local/Etsy artisans.
26. Find an antique fireplace mantle.
27. Visit The Museum Of Natural History in Halifax.
28. Send my Gram a note a month.
29. See horses in the wild.
30. Make more jewellery.
31. First time phone call with a fellow Blogger from a different country.
32. Donate pictures to the mammography unit at the hospital.
33. Treat myself to a spa day.
34. Try yoga.
35. Visit The Maritime Museum Of The Atlantic in Halifax.
36. See forty new movies.
37. Go whale watching.
38. Run around outside in the pouring rain.
39. Eat at a five star restaurant.
40. Be happy.

I know some of these goals will be met; some are possible, a few are probable and a couple are long shots but it will be fun to see how well I do :o)

I want to thank everyone for their birthday wishes and I'll be sharing with you some lovely gifts in my next post!