LOL! Sorry I missed yesterday but for one, it was a holiday and two, I had to drive to the 'big city' to pick up DH :o) After being away at sea for eleven days, we figured we deserved some time together.

Yes, so yesterday morning (bright AND early) I drove to Halifax to pick him up. I got to see just how hard the city got hit by Earl. There was a lot of tree damage and power crews were still going around trying to get power to those that still didn't have it.

DH and I were very happy to finally see each other :o) We've only been able to email during the time he was gone. This was his offshore training and therefore, doesn't have to do it again. Poor guy was still wobbling when he got out of the car. He wasn't sick but he said that the last few nights were rough. Apparently he didn't know all the tricks of the trade on how to stay in bed during rough seas ;o)

If you haven't figured it out, DH was out to sea while Hurricane/Tropical Storm Earl came through. I was not happy about the situation as I was told he would come in if conditions were not good :o( They went W-A-Y out to sea though and got on the other side of Earl. DH sent the GPS coordinates and I was able to locate him on the map :o)

I'm quite jealous over his trip because he got to see a lot of things. I can't post a lot of pictures because of different reasons but I chose a few to share with you :o)



I guess they boarded quite a few tuna boats and DH was able to see them bring one in. He says this one is about 300 pounds and is considered small to some of the others ones he's seen! These are Blue Fin Tuna and they are caught with rod and reel. That's a lot of work!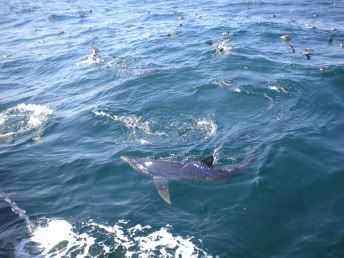 Yes, that is a shhhhhh-a-r-k! I told DH that if I was in that boat, I would have headed for the highest point, even if that meant I had to crawl on top of someone ;o)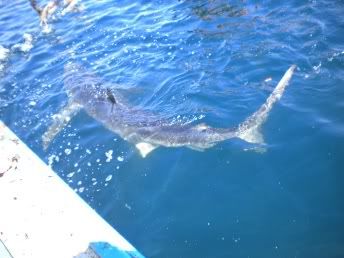 These are Blue Sharks but a shark is a shark is a shark. They were coming around to eat the guts thrown overboard by the fishermen. Yuck! It's a shame you can't get an idea of how big these sharks are. DH said they were about 10 feet long and there was more than one swimming around! Gulp :o(