ROFL! That's what it was 'supposed' to be but it seems that the sewing machine had other ideas >:o( It never fails...I have a project I want to finish, I know how I'm going to finish it and it's going to be straightforward...but it never is. Argh! Something that should have taken an evening to put together took Saturday AND Sunday morning.

So, after a lot of screaming, swearing and pulling more thread than I ever thought possible, here is the result of my work -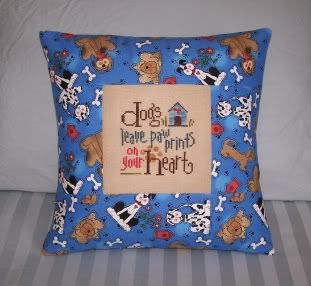 Truthfully, I am VERY happy with my results, even with all the frustrations ;o) Don't you just love the fabric?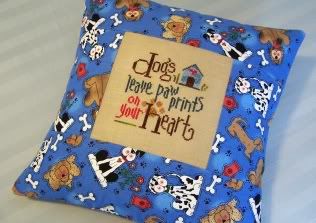 I made Dogs Leave Paw Prints by Lizzie Kate into a pillow cover and this will be my thank you gift for our neighbours :o) It measures 14 x 14 and is a nice size. I love stitching pillow covers because there's no hole to sew together when you're done. All you do it slip it over your pillow and voila! This is what I plan on doing with mine when I get it stitched up but I may put off sewing for a little bit...

Last night, DH and I went out to dinner and a movie with friends of ours and had a great time :o) I 'finally' have a friend here! Yay! LOL! T is in the same line of work as DH so they have a lot in common. I finally got to know T's wife, K, in December after she changed jobs and got a more regular working schedule. They're great people and we have a lot of fun together.

We decided on Chinese food at a restaurant that DH and I hadn't been to yet. It was pretty good! I had the orange beef. Yum! Afterwards, we went to see From Paris With Love. I got my orange slushy and somehow two ECEs made their way into my jacket pocket ;o) Thanks K! LOL! It was a pretty good movie. Definitely action packed but it does have its comedic moments. John Travolta has been coming out with some funky looks lately and this one tops the list. He's got some great one liners too.

I want to thank those that have offered to donate to the breast cancer auction that is hosted by the Attic Needlework shop. I'm very touched that you want to help and we now have eleven people (including myself) that are officially signed up. If you are interested and have not heard back from me or received an invitation to the Blog I set up, please email me and I'll get you hooked up :o) More information will be posted soon so stayed tuned!