Considering what things have been like since my last post, it's a miracle I'm even here! I know I have complained about time flying by but I REALLY have no idea where it went since I posted on October 22.
So to bring you up to speed on Junior, here he is in all his glory at seven months old -
I guess he takes after his mother when he gets in front of a camera because he just freezes right up ;o) LOL! This was our best shot of this photo shoot.
Yesterday, Junior's top right front tooth came through! YAY! The left is very close behind. Very soon we'll have four pearly whites :o)
His crawling is still in the beginning stages but he will 'crawl' for certain things, including my Crocs. ???? It probably won't be much longer.
DH and I have continued to introduce new foods to Junior. We have found that he loves peas, green beans, peaches and pears. He LOVES sucking on his pieces of apple :o) I was getting a bit worried about his eating but I think he's starting to open up to new things. He definitely makes it known when it's 'cereal time'!
I've been taking Junior to a weekly playgroup that is just down the street from us. He enjoys watching the other children play. They range from his age to about 3 years old. And he's already been kissed by a girl!!!! GASP! My little boy! AND...she's an older woman too ;o) LOL!
Since I wasn't in human form for Halloween (literally!), I'm posting a bonus picture of Junior for you ;o)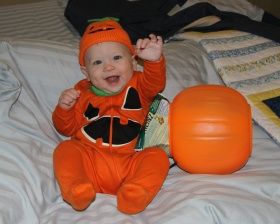 Gee, I wonder why his first costume was a pumpkin...
I'll be back shortly to update you on what's happening with me. Thanks for sticking around :o)