Again, I've been holding out on you in the stitching department. January and part of February proved to be very productive months :o) I didn't plan on stitching this piece as stash buying is very limited now but when I saw Ranae's finish on her Blog, I inquired if she wanted to do a trade. Thankfully she accepted!

As soon as this chart came out, I was on the bandwagon. Here is Sergei by Plum Street Samplers -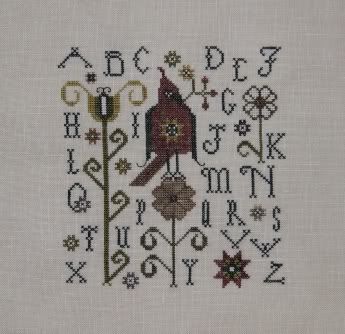 I just LOVE this piece!!!! LOVE! I had so much joy stitching him and I was sorry to see the end :o(



I went out on a limb with Sergei and stitched him on 36 count Light Exampler Linen by Lakeside Linens. This was my first time on such a high count but do you know what? I LOVED IT! I used all the recommended fibers except one that I substituted for DMC and I stitched one over two.

I've had such a hard time getting a good picture of him. Eventually, he will be framed :o)

Now I'm determined that I want to stitch Boris! Is there anyone out there that would like to do an exchange - my Sergei for your Boris? I'd rather deal with someone that I know because back in December I got burnt in an exchange with someone I 'thought' was known well enough in the Blogging community :o( I will not reveal a name. Needless to say, they got their end of the agreement but mine has not appeared and she will not answer my emails. If there is an interested party, please feel free to email me :o) Thanks!