Another successful Christmas has come and gone. As always, it was here and gone before we knew it! This year, my parents were here for the holidays and we had a very nice visit with them :o) They even gave Junior his first Christmas present! LOL! He got a HUGE stuffed monkey and I'm sure he'll love it when the time comes and he can lay right on top of it :o)

As I mentioned in my previous post, DH and I had already bought our Christmas gifts for each other and got to enjoy them even before the big day. Each year we buy ourselves a pewter ornament for the tree and this year it was two chickadees -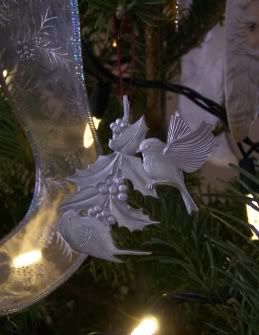 It signifies that this will be our last Christmas as two ;o)

We also bit the bullet and put in a propane fireplace!



It may be hard to tell but DH had to build out the wall around the fireplace and it's not complete. I wouldn't let him do any sanding because I had just put up all the decorations and cleaned the house ;o) Remember the white mantle? Well, it's been stripped (partially) and whittled down. I love the look but we're still not sure if we'll repaint it or stain it. We also still have to pick out some tile to put around the fireplace insert.

And do you notice the area rug? That's my new $3,000.00 addition! Nope, I'm not kidding! Did we pay $3,000.00? Are you crazy? LOL! When we were searching out area rugs, I came across this great site called Rugs On Time. The real price? Just $421! That included free shipping, no tax and a free under cushion. How awesome is that?

I've still got loads to share but I'm still catching up with my Blog reading. Hopefully my Blog won't be as neglected in the New Year ;o)